2022 Overwatch League
The Overwatch League (OWL) is the premier professional league for Overwatch, hosted by Blizzard Entertainment. The league features franchised city teams from locations all across the globe.
Preview
The 2022 edition of the Overwatch League is about to begin and, well, you're either elated beyond measure or are wholly indifferent. That's… not exactly a good thing, as far as we're concerned. Blizzard has made numerous egregious mistakes when it came to handling this peculiar FPS and its competitive scene, so it should really come as no surprise that most folks simply don't care any longer.
Be that as it may, a new season of competitive Overwatch is always something one should celebrate. The game itself is still exceedingly entertaining and the same goes for its biggest professional league as well.
There are, however, numerous question marks, some of which are more worrisome than others.
What's Different?
Everything, in short. Many pro players have either retired or have transitioned over to VALORANT. The scene itself is kind of hanging by a thread and no one's all too certain what'll happen and who'll eventually come out on top.
First of all, all franchise partners will compete on an early build of Overwatch 2. That, in itself, is a humongous shift that is bound to leave an indelible mark on competitive play. The core gameplay will now feature two teams of five players rather than six. That, too, is a change no one saw coming. It'll surely result in a more entertaining (and less chaotic) viewing experience, but it's also a tectonic deviation from what we've come to expect.
There's also a new game mode called Push — which has received ample praise from the community — and even a new DPS hero, too: Sojourn. Older fan favorites have also been adjusted in various different ways. Certain abilities function differently whereas others have been flat-out removed.
The game itself is still pretty similar at its core, but these nuanced changes will make a world of difference. And, well, they'll make our lives and betting endeavors a living hell. How can one predict what'll happen when there are so many monumental changes taking place? How can we know who'll emerge victorious when so many beloved veterans are no longer scheduled to compete?
Expect absolute chaos early on. New heroes, maps, abilities, game modes, and a host of other changes have altered certain gameplay elements to their core. This kind of status quo is at once both exhilarating and a fair bit stressful as there are so many intangibles lingering in the air, so many questions we have no answers to.
Betting on competitive Overwatch still makes sense, there's no doubt about it, but it's not as easy or clear-cut as it was in the past.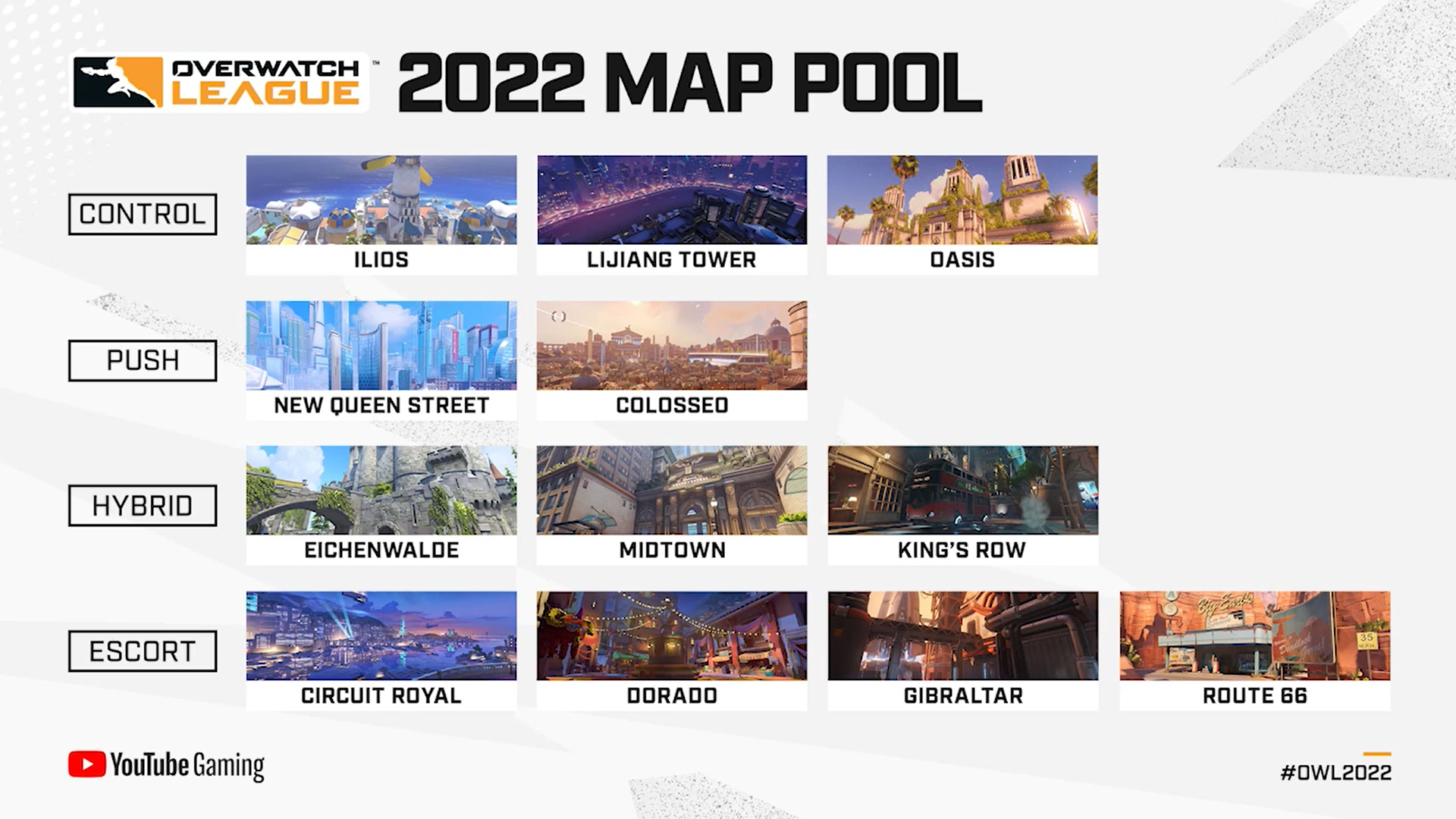 Teams to Watch
We're dealing with a clean slate here which means making any kind of prediction a fool's errand — there are no guarantees whatsoever. And, well, that's something you really need to keep in mind if you're looking to bet on competitive Overwatch.
This is the most volatile state the Overwatch League has ever been in. Making any kind of prediction, therefore, will be an exceedingly daunting task.
The Shanghai Dragons are arguably the "safest" team to bet on. They're entering the 2022 season with a metric ton of hype and momentum and, well, all of it has been earned in "sweat and blood." They're the most stacked, capable, and versatile team in the Overwatch League and are rightfully expected to hit the ground running.
Everyone else, sadly, is sort of a question mark.
Dallas Fuel, Los Angeles Gladiators, Chengdu Hunters, Atlanta Reign, Seoul Dynasty, and San Francisco Shock are right up there as well, but it's still a bit too early to predict whether they'll be able to find as much success early on as Shanghai.
Hangzhou Spark, Philadelphia Fusion, Florida Mayhem, Guangzhou Charge, and Washington are also worthy opponents, but they'll have to climb a much steeper hill when compared to some of their contemporaries.
What's Most Likely to Happen
There's a fairly large gap between the very best teams in the Overwatch League and everyone else. That gap might not be as visible early on — what with so many changes being implemented — but it will become both evident and pronounced as the season progresses.
We will surely witness numerous upsets early on, but they'll become a lot less frequent as the weeks go on. So, if you're looking to put your hard-earned money on the line, it would perhaps be wisest to hold off on betting until things stabilize a bit. We still don't know which teams have a good enough idea on how the game should be played nor do we know what the meta will be like, which heroes are the most viable, and which avenues and playstyles are most likely to yield success.
Once a few weeks go by, the broader picture will become a lot clearer and, therefore, more favorable towards bettors.
Tournament Format
More information will be added as soon as it's available.