2022 LoL European Championship Summer
The 2022 Lol European Championship Summer is the second split of the fourth year of European's rebranded professional League of Legends league. The tournament is organized by Riot Games and will be held in Europe. Ten notable teams across the region will participate to compete for the title of 2022 LEC Champion.
Preview
The 2022 LEC Summer Split is about to begin and, needless to say, we cannot wait for the action to begin! There's… a lot to talk about, though. Most of it is positive, but there are a few drawbacks and hindrances that pertain to the meta and the fact that the LEC is still as top-heavy a region as they come.
Let's tackle the ever-changing meta first.
2022 LEC Summer | A State of Uncertainty
Patch 12.10 has ushered in a totally different way of playing the game and — depending on who's doing the playing — that's either a very good thing or a very bad one. Everyone's a lot tankier, tower diving is no longer a thing, and the games themselves seem to be a fair bit slower as a result.
That's perhaps the biggest issue: the fact that teams are no longer encouraged to push the pace of the game and skirmish whenever and wherever possible.
There's no reason to sound the alarms just yet, but we're nonetheless quite disappointed because of the direction in which Riot opted to take things. On the one hand, teamfights are more layered and more drawn-out than ever (a positive, as far as we're concerned), but if a team doesn't really know what it's doing — and that's far more frequent an occurrence than you'd expect — then things tend to reach a stalemate than we'd like.
Then comes the Dragon stacking, the hesitancy, the reservedness — that's when the "wait and scale for late" approach takes center stage, and in that kind of set-up the viewers lose out the most.
How will the European teams adapt? We'll find out soon enough.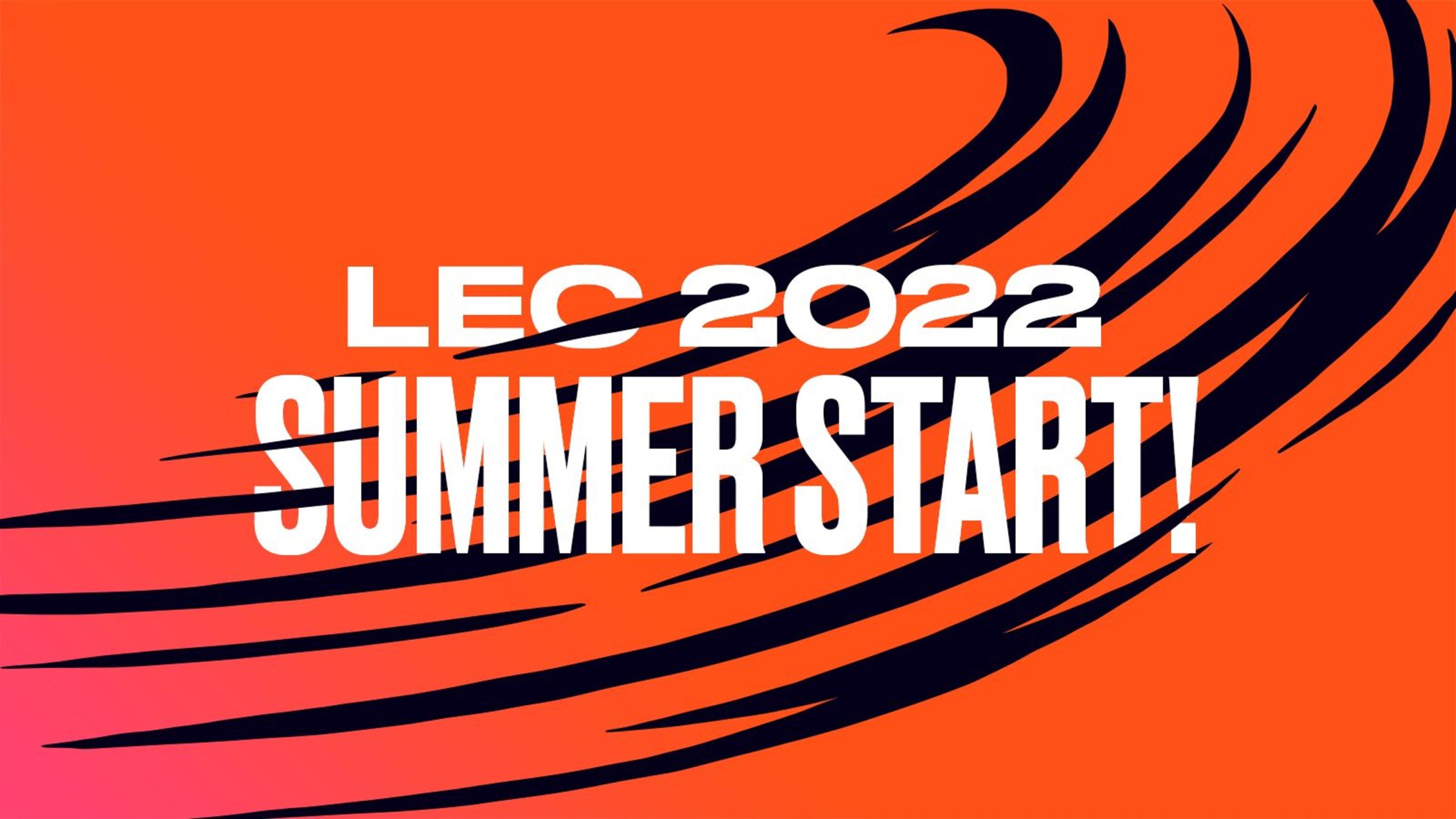 2022 LEC Summer | The Biggest Favorites
As already mentioned, very little has changed as far as the LEC pantheon is concerned. We have three giants on top: G2 Esports, Rogue, and Fnatic. No one else comes even remotely close to their depth, talent, and overall potential.
These three teams are the only ones capable of claiming the LEC throne. Or well, defending it, in G2's case. They have the best players, the highest skill ceilings, and a king of resilience that simply cannot be found within their competitors.
They also have their own distinct identities. G2 are the most clutch in Best of 5s but also the most volatile throughout the regular season.
Fnatic are the most well-rounded and versatile but also somewhat inconsistent and prone to crumbling at the most random of moments. Their confidence plays a key part and sometimes they just don't have enough of it.
Rogue, on the other hand, seem unstoppable for as long as they are scheduled to compete in Best of 1s. Once the playoffs come around, they implode almost like clockwork.
And it is precisely this deficiency, this severe weakness, this lack of fortitude and "clutch factor" that renders them useless in a Best of 5. They're still an exceptional team, though, and one would simply have to consider them a shoo-in for the World Championship, most probably as the number three seed.
2022 LEC Summer | The Dark Horses
There are two "dark horses" this time around and, needless to say, both of them are quite interesting. MAD Lions and Team Vitality have about as much talent and depth as the three teams listed above but things just don't seem to have "clicked."
MAD have made one key change to their starting line-up but are supposedly abysmal in scrims. Whether that's an indication of what's to come or just a natural part of the process still remains to be seen. Either way, the fact that they've brought on Nisqy (of Cloud9 and Fnatic fame) can only augur well for their future, both because of his experience and his team-oriented playstyle. We're cautiously optimistic about their chances. They are, at the very least, a dangerous playoff contender — one that could, by all means, go on an incredible surge come playoffs.
Vitality, on the other hand, have opted to replace Selfmade with Haru; that's… not exactly a stellar decision, all things considered. Is Haru an exceptional jungler? Undoubtedly so, but he's also someone who's not going to fix any of Vitality's issues, all of which seem to stem from a lack of leadership and a non-existent identity.
It is a move made out of desperation and a clear lack of guidance — a last ditch effort to make their 2022 season count. Unfortunately, unless they can somehow turn into miracle workers, it's not going to be enough to salvage a sinking ship.
Be that as it may, both of these teams not only have a shot at reaching the playoffs but could perhaps even pull off a sizable upset — by which we mean overtake one of the three teams listed above. It's a long shot, granted, and a most tremendous one at that, but it is possible, especially in as malleable a meta as the one we're in right now.
2022 LEC Summer | The Gatekeeper(s)
Finally, we have two teams that are actually quite stellar but just not good enough to compete with the ones listed above — or shouldn't be good enough, once everything is said and done. Those two teams are EXCEL Esports and Misfits Gaming.
They're… hard to assess at this point in time. We don't think they'll be any worse than they were back in Spring, but MAD <em>have</em> upgraded and, in a way, so have Vitality. These two, therefore, will almost certainly drop a few spots in the standings as they're nowhere near as layered or flexible.
We wouldn't go so far as to say that they're one-dimensional, but they sure as heck aren't versatile, multi-threat teams that can adapt "on the fly." Instead, they're capable gatekeepers that can, at times, exceed expectations and punch way above their weightclass; that is already way more than we thought they'd be coming into 2022.
2022 LEC Summer | Closing Remarks
This forthcoming split has quite a lot going for it. There is, however, the potential of things taking a turn for the worse if the subsequent balance changes don't end up imbuing the game with a bit of urgency and momentum.
After all, no one likes watching drawn-out, 50-minute snoozefests in which teams just stack Dragons and wait for their full item builds before even attempting to fight. We're optimistic, but also wary of what might happen if Riot doesn't respond appropriately (and in time).
---
2022 LEC Summer Split Playoffs Preview
The 2022 LEC Summer Split playoffs are about to begin and we, for one, couldn't be more excited! There are so many mouth-watering match-ups for us to cover, so many incredible narratives and clashes worthy of tuning in to! It'll be a load of fun, in other words, and the fact that such incredible League of Legends is about to take place before our very eyes has us giddy with excitement!
The LEC status quo is about the same as it was a few months ago, so we're probably not going to witness any huge, mind-blowing twist — the kind that would etch itself in the history books and be remembered and talked about for the years to come. That, however, changes very little in the grand scheme of things; we're all still madly excited for what's to come!
Before we delve any deeper into the many storylines and particular match-ups that'll make this forthcoming playoffs one to remember, we first ought to go over the stakes along with the bracket itself!
2022 LEC Summer Playoffs — Playoffs Format
The entire playoffs bracket can be seen in the image above. Rogue and MAD Lions will first face off on Friday (26/8) with G2 Esports and Misfits doing the same just a day later (27/8). Last but certainly not least, we have Fnatic going up against EXCEL Esports on Sunday (28/8) — a Best of 5 that's bound to deliver in all the right ways.
All three match-ups have a ton of potential albeit for slightly different reasons. Rogue vs. MAD is basically a clash between the next "breed" of LEC talent. G2 vs. Misfits, on the other hand, is more lopsided in nature (but no less exciting). Its conclusion seems foregone, but Misfits should not be counted out just yet — they have a chip on their shoulder and they plan on fighting until their very last breath.
Then we have a clash between two severely flawed contenders: Fnatic and EXCEL. Their skill ceilings are extremely high but they lack focus and synergy. They're great in every sense of the word but probably not great enough for it to matter against the likes of G2, MAD, and probably even Rogue.
They're also evenly matched — they have a wide arsenal of tools, weapons, and avenues for success and are, therefore, guaranteed to put on one heck of a show!
2022 LEC Summer Split Playoffs — What's At Stake?
Quite a lot, actually. Three tickets to this year's World Championship are up for grabs, along with a sizable sack of cash and a shot at writing a bit of history. That's nothing to scoff at, all things considered! Moreover, the incumbent champions G2 Esports have already reserved their spot, which means that the remaining five teams are basically fighting amongst themselves for the honor of representing the LEC on the biggest stage the world of competitive League has to offer.
Three of them, therefore, will get the nod. We're leaning mostly towards MAD, Rogue, and Fnatic, but anything can happen in today's crazy, ever-changing meta. EXCEL, too, should not be counted out, and much of the same can be said for Misfits Gaming as well. They might not be particularly layered or capable, but they sure can pack one heck of a punch!
They'll all face the ultimate test, too: a five-game series that'll challenge them in numerous different ways, most of which are taxing to the extreme — both on their bodies but on their minds as well. It is the kind of format that favors resilience above all else; mental fortitude and versatility reign supreme.
How fast can you bounce back after a painful, lopsided defeat? How quickly can you gather yourself after getting smacked around on the Summoner's Rift? How deep does your champion pool go? All of these questions (and many others) are endlessly important and, well, they'll get answered in a matter of days!
2022 LEC Summer Split Playoffs — Who's Competing?
G2 Esports, MAD Lions, Rogue, Misfits Gaming, Fnatic, and EXCEL Esports will all be duking it out over the coming days and weeks for a shot at becoming the 2022 LEC Summer Split champions. It is a wholly prestigious title, one that has been reserved for the absolute crème de la crème.
And, in all fairness, only three teams out of the aforementioned six have what it takes to go the "whole nine yards" — G2, MAD, and Fnatic. Including the former "Kings of Europe" might seem like a strange decision (what with them being so darn volatile and inconsistent) but their talent and overall skill ceiling speak for themselves. They are, without a shadow of a doubt, capable enough to trade blows with G2 and reclaim their long-lost throne; the only problem, however, is that they don't have any real, team-wide cohesion and that, at this point of the season, is simply unacceptable.
That is their most debilitating weakness — their Achilles' heel, if you will. And, by the looks of it, they won't be able to shore it up in time to really stand a chance against the LEC pantheon (an exclusive club they no longer seem to be a part of).
Be that as it may, there's still a number of different ways in which things could unravel over the coming days and weeks. The wisest thing for one to do would be to follow each and every single team as closely and attentively as possible and then, based on all available intel, make the appropriate decision come betting time.
The LEC status quo, while firmly entrenched, can, at times, evolve and shift. It would, therefore, be ludicrous of anyone to come out with huge, sweeping statements and predictions at this early point of the playoffs.
Anything can happen; of that you can be certain.
2022 LEC Summer Split Playoffs — What'll Happen?
While anything may be possible, certain scenarios are nonetheless more likely to occur than others. We have ample empirical evidence, that's a fact, but so much could have — and most likely has — changed over the course of the last few weeks.
We simply don't know what's been happening "behind the scenes." Have these teams been practicing day in and day out or, conversely, have they taken a breather in hopes of recharging their batteries and entering the playoffs with renewed vigor?
Time will tell.
They've also had a fair bit of "downtime" to focus on their issues and come up with a layered enough game plan. They all knew their opponents well in advance and will surely come out the gates swinging come game day.
Friday, 26/8 — G2 Esports vs. Misfits Gaming [Upper Bracket]
But we digress. G2 will most likely steamroll through Misfits in, at worst, 3-1 fashion. They're better in every which way and will surely be able to prove it, too. Whether or not they'll win in dominant, one-sided fashion still remains to be seen, though — it all depends on how motivated they are and whether or not they're looking to have a bit of fun (i.e. engage in some ill-advised "limit testing").
One can never be too certain with the incumbent LEC champions. They're masters of the theatrical and are as crazy and unhinged as they come. And, well, we all love them for it, even though they are, in all fairness, a nightmare to bet on.
Saturday, 27/8 — Rogue vs. MAD Lions [Upper Bracket]
Rogue vs. MAD Lions are, on the other hand, a much bigger challenge prediction-wise. It could, by all means, go either way. Both teams have a shot at emerging victorious; they have, in fact, been taking turns at beating each other for quite a few splits now. MAD, though, were always more successful whenever it truly mattered (i.e. the finals).
Rogue came close (to put it mildly), but they've yet to become LEC champions — and there's a very good reason why. Their "mental game" simply isn't up to snuff, and that probably hasn't changed in the second half of 2022 (certainly not due to a lack of trying). They've always turned fragile and weak whenever the going got rough, no matter whom they happened to be playing against.
For Rogue, it's less about the opponent and more about themselves. They've yet to overcome this momentous hurdle and, odds are, it'll once again rear its ugly head once they step foot on stage to compete against MAD in this forthcoming Best of 5.
We're leaning more towards MAD, but it's not going to be easy. And, as already mentioned, it could really go either way.
Sunday, 28/8 — Fnatic vs. EXCEL Esports [Lower Bracket]
Finally, we have the former "Kings of Europe" taking on a team no one thought would ever become an actual threat: EXCEL Esports! The narrative surrounding this UK-based organization was one of shame and failure. Fortunately, they were able to correct course in 2022 and are now, by all metrics, a very dangerous mid-tier contender (one that can definitely exceed expectations).
Who'll come out ahead, though, is anyone's guess. Both teams have a shot as both happen to be flawed and inconsistent beyond measure. There's just no other way to say it — their performance fluctuates and varies wildly based on a myriad of different factors, some of which aren't even in their control.
Watching them play League of Legends throughout the split sure has been a weird experience. They're astonishingly talented but can nonetheless fall apart at the most random of moments. They do everything right and then, all of a sudden, comes a mistake so egregious you cannot help but stand up and shout in agony.
Fnatic are, obviously, a lot more capable and experienced, but their fluctuation is also a fair bit more pronounced. Whether they'll get on the same page and deliver come Sunday still remains to be seen, but there's definitely a reason to be optimistic (if a bit wary).
They've had enough time to, at the very least, conjure up a layered game plan and lay the groundwork for a potential win. It's not going to be easy but they're favored for a reason and should, by all means, be able to come out on top.
2022 LEC Summer Split Playoffs — Overall Predictions
G2 will almost certainly advance through the upper half of the playoffs bracket and, eventually, reach the grand finals. Fnatic, given their staggering experience and overall ability will surely best EXCEL and then, potentially, Rogue/MAD.
They're pretty much the only teams equipped with the right tools and weapons to leave a mark.
Misfits are mighty capable, there's no denying it, but they're not capable *enough* to withstand the challenges and tribulations that a Best of 5 brings to the table. They might be a threat overall, but in a five-game series their streaky nature will surely end up being too big of a hindrance.
They don't, therefore, stand much of a chance against any of their more layered peers. Still, they're not to be trifled with so keep your ears close to the ground for any potential twists and upsets.
MAD Lions will, most likely, end up in the finals as well, but we don't think they'll be clutch enough to end up on top and reclaim the throne. They'll come close, no doubt, but there's really no one in the LEC who can match the talent and ability of the incumbent champions.
Rogue are also a most fascinating dark horse and, by proxy, a shoo-in for the forthcoming World Championship. We don't have high expectations given their overall track record, but they've nonetheless done more than enough to warrant our benefit of the doubt.
The only remaining "question mark" pertains to the boys in black and orange, Fnatic. They've had some truly astonishing highs throughout 2022 but have also been plagued by inconsistency issues and moments of mind-boggling regression.
Still, if they can keep it together and huddle up, they could, by all means, end up punching their ticket to the World Championship. It'd be a debacle if they didn't, and they know it, too.
Tournament Format
Group stage will be played in a round-robin format, and all matches are played in a best-of-one series.
Playoffs format will be added as soon as it is possible.