2022 League of Legends Pro League Summer
More information will be added as soon as it is available.
Preview
The 2022 LPL Summer Split is about to begin and, needless to say, we're all excited to see what'll happen and who'll eventually come out on top! The Chinese region is not only the home of some of the very best teams in the world but also the place where the craziest, most mind-blowing League of Legends happens to be played.
And, make no mistake: these are by no means fiestas or anything of such sort (the kind of thing that can so often be seen over in North America, for instance). Instead, we're talking about sheer and utter carnage, albeit channeled and controlled, tamed and harnessed in the most stylish way imaginable.
The best teams in the LPL don't just fight willy-nilly over neutral objectives or towers or minions or what have you — they're calculated beyond measure in their unrelenting aggression. To the uninitiated, their approach seems chaotic and reckless, but they sure do know what they're doing.
And, well, they have numerous trophies to prove it, too. An LPL team has won three of the last four World Championships and two of the last three Mid-Season Invitationals. The LPL is, by all metrics, the most dominant region in the world, and it's been like that for years. Now sure, certain teams from the LCK did made waves now and again, but their flashes of brilliance were just that: fleeting moments that dispersed about as quickly as they were brought into existence.
The LPL reigns supreme, and no other region, by the looks of it, has what it takes to dethrone it. The fact that some teams at some point managed to push the needle means very little in the grand scheme of things — China was and still is on top.
And so if you're into the absolute best League of Legends and want to see a slew of exceptional teams clash off and entertain the masses, tuning in to the forthcoming LPL Summer Split should definitely be your top priority!
2022 LPL Summer | A Chaotic State of Affairs
Our only problem with the LPL — and it's quite a big one — is the fact that you can never confidently predict what'll end up happening. Sometimes the chaos ends up being a bit too much for us mere mortals to handle; there are certain days and match-ups when it's nigh impossible for anyone to foresee and forecast what'll transpire once the action begins and that, frankly, is pretty much a nightmare when it comes to betting.
Take Royal Never Give Up for instance. They mopped the floor with their opposition back in Spring of 2021, after which they steamrolled through some of the very best teams in the world at MSI — en route to winning it, of course.
And so, naturally, one would have to assume they'd continue building on that foundation, potentially defend their LPL throne and represent China at the World Championship come October. Fate, however, had other plans, and none of them could have been predicted beforehand.
Heck, RNG didn't even make the cut for Worlds! That alone is vexing beyond all measure!
It pains us to say it, but one cannot, in no way, shape, or form, predict what'll end up happening and who'll ultimately end up on top. The LPL pantheon is absolutely stacked. That's a fact, if ever there was one. And, perhaps most importantly, its best teams are all separated by laughably slim margins.
And so you have a bunch of contenders all of which are talented beyond measure and able enough to contest for the number one spot. There's Victory Five, Royal Never Give Up, LNG Esports, Top Esports, JD Gaming, Weibo Gaming, EDward Gaming, and even Bilibili Gaming. Heck, there's even FunPlus Phoenix!
That's a whopping eight teams that have all the right tools and players to become LPL champions and represent their region at Worlds come October — let that number sink in! The LPL, too, is a top heavy region, but its top is a fair bit more stacked than any other league in the world.
The LCK, at the moment, has perhaps two or three teams that are well equipped to rub shoulders with T1. They're not going to win, mind you, but at least they'll make it somewhat competitive. The same goes for the LEC and LCS — their champions are opposed and challenged only to a certain degree.
The LPL throne, on the other hand, is constantly up for the taking, which is nothing by a natural by-product of the region itself having so many exceedingly talented players, all of whom happen to be "cracked" at the game and are imbued with an unparalleled drive to succeed.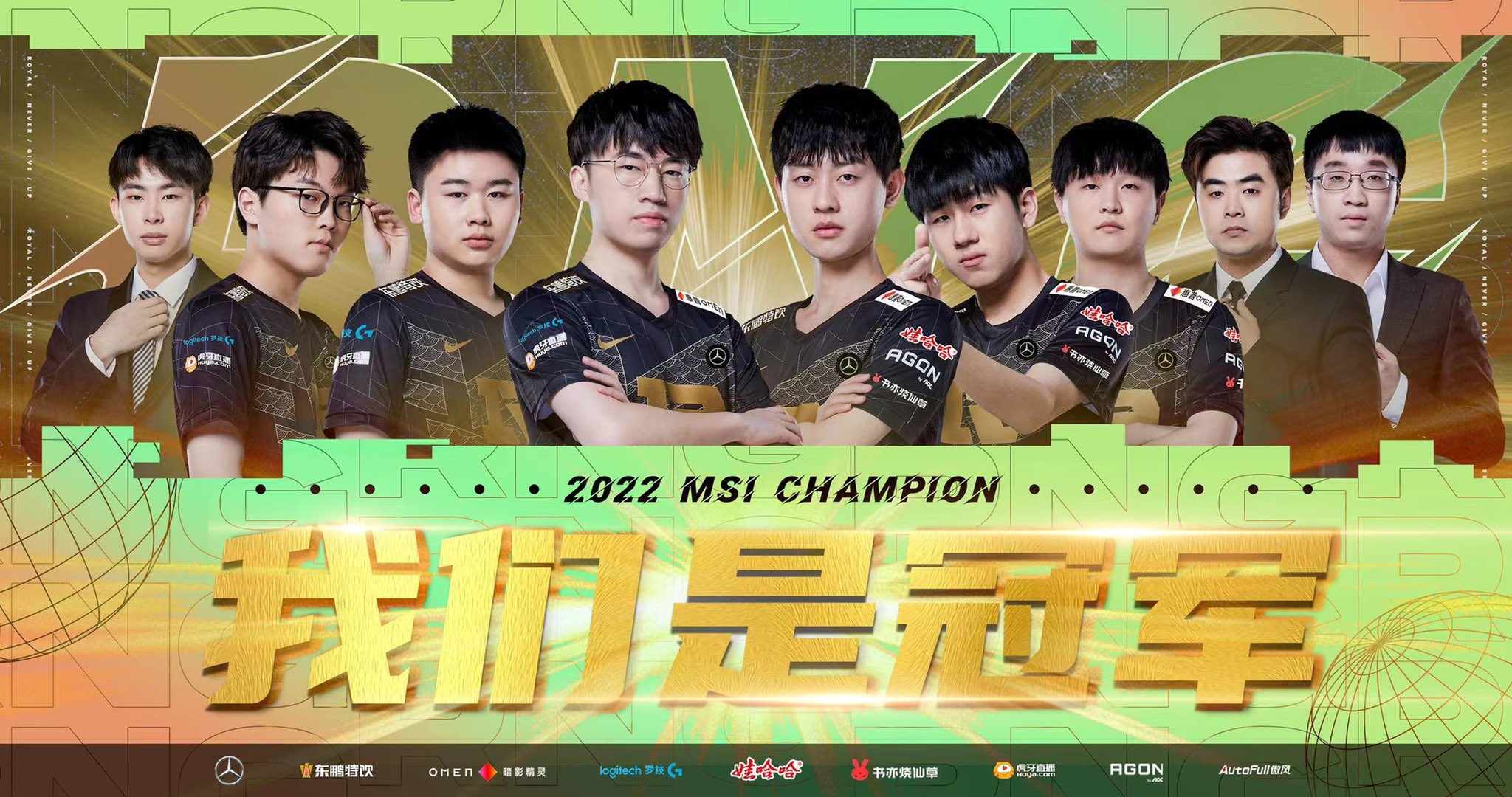 2022 LPL Summer | The Biggest Favorites
Royal Never Give Up, Victory Five, and Top Esports are the de facto biggest favorites — at least based on their level of play back in Spring. They are the most cohesive and, by proxy, dangerous. That being said, JD Gaming are right up there as well and so are FunPlus and perhaps even Weibo.
One mustn't forget about EDward Gaming either who, while not exactly in peak form, could definitely pull off a rebound should the stars align. That's the thing with LPL teams: they should never be underestimated no matter how big of a rut they might be in.
Royal Never Give Up might be the best overall but they'll nonetheless face an uphill battle right from the very get-go. They've had virtually no time to rest and recuperate whatsoever, unlike all of their forthcoming opponents. The competitive season is long and taxing, and that is especially true for the LCK and LPL because of their slightly different format — they're competing in Best of 3s all year long unlike the LEC and LCS who are still "stuck" on Best of 1s.
This means that RNG are bound to be at a disadvantage from the very moment they step foot on stage. How much will all of this affect their play? Only time will tell, but don't expect them to be in tip-top shape.
If we had to take a wild stab in the dark, we'd say that Royal Never Give Up will, in fact, defend their throne. The road towards that point, however, will be as treacherous as it gets; a murderer's row awaits the defending champions.
One thing's for certain, and it's true regardless of the final outcome: it'll be one heck of a split!
Tournament Format
More information will be added as soon as it is available.