2020 Overwatch League
The Overwatch League (OWL) is the premier professional league for Overwatch, hosted by Blizzard Entertainment. The league features franchised city teams from locations all across the globe.
Preview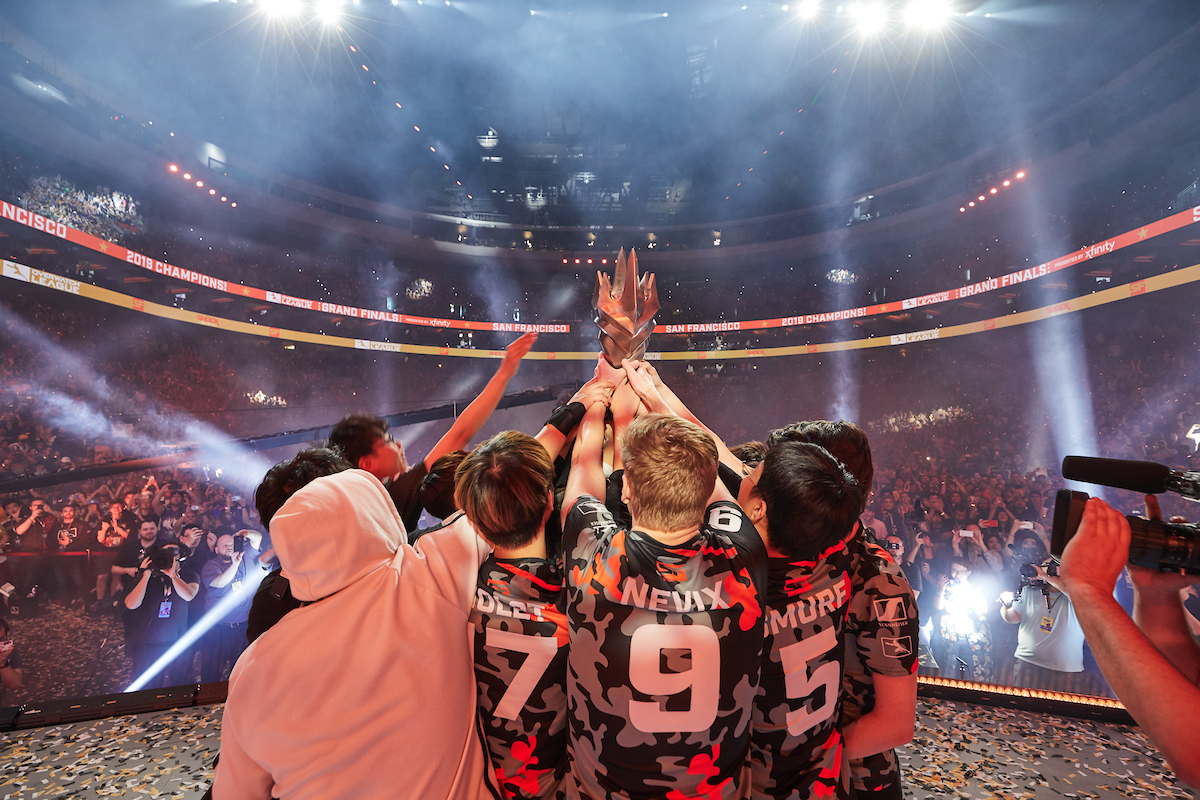 The third season of the Overwatch League is finally here! To say that the world will be watching this time around would truly be an understatement. Why, you might wonder? This year will be a huge, monumental experiment, and its success (or subsequent failure) could have a lasting effect on esports as a whole. In short, Blizzard is transitioning the whole League to a localized, homestand model. This means that games will no longer be played at the Blizzard Arena in Los Angeles, but instead all over the world.
Now, on paper, this sounds exciting. Perhaps even exhilarating. In reality, however, it is a logistical nightmare and it creates a metric ton of pressure on all twenty permanent partners. This means that the orgs themselves will have to organize between two and five homestands this season — a "Home" and "Away" model if you will. Teams will therefore spend a good chunk of their week in the air, flying from one country/continent to another, and competing in a considerably different format.
You don't have to go too deep to realize the many problems such a thing could entail. Players will have less scrim time and they'll face more burnout. That's a problem, especially for the Overwatch League where many professional players already decided to retire because of the grueling schedule and overwhelming amount of pressure.
On the one hand, things will get slightly better as each team will play just 28 matches over the next couple of months. That's a whole lot less than before, but they'll lose a lot more time in preparation and logistics. So in a way, it evens out. Not exactly the best possible set-up, but it's still too early to predict anything with confidence.
Let's go over some of the most important facts:
The regular season starts on February 8th and lasts until August 9th. Talk about a marathon!

Matches are played in the Best of 3 format.

The League is still divided into the Atlantic and Pacific divisions.

There will be no Stages this time around, but instead just a single, long 27 week-long season.

Once the halfway point of the season comes along (13 weeks, to be more exact), we'll witness a mini tournament (single elimination) between the top four teams. These challengers will fight for $1,000,000.

The total prize pool for the third season of the Overwatch League is $5,000,000.

The coronavirus outbreak complicated things quite a bit for the four Chinese Overwatch teams competing. Their homestands have been postponed and will be organized at a later date. Some of the teams have decided to stay in China, whereas others opted to move to South Korea for the time being and continue their practice there.
A lot has changed since we last saw these teams in action. To say that we should be in for a lot of top-tier Overwatch would truly be an understatement, although there are a couple of fascinating caveats.
Overwatch Hero Pools
Many fans across the globe have been clamoring for a pick and ban system in competitive Overwatch and with good reason. Blizzard has historically been extremely slow to react when it came to patching things out and fixing the meta which is one of the main reasons as to why the viewership dropped off last year once GOATS became the best and most optimal way to play the game.
Blizzard decided to not implement such a system, but have instead offered something different — Hero Pools. So what does this really mean and how will it affect competitive play going forward?
In order to make the meta fluid and flexible, Blizzard will disable two DPS heroes, one tank, and one support each week of competitive play. These "bans" will be random and they'll be chosen according to play rates from the two previous weeks. This means that if a hero is running rampant and is basically picked in each and every match, there's a very big chance that it'll be disabled in the following week.
This will effectively neutralize any fixed (and stale) meta because teams will constantly have to adapt on the fly. They will no longer be able to play in just a single way, they'll no longer compete in mirror match-ups which, in turn, means we'll see a lot more creativity, and off-the-wall picks.
This also means that only the very best teams in the world will persevere, now that flexibility and strategic depth are of paramount importance.
That, in itself, is incredibly exciting, although not overly fair. It's not like the players didn't have their hands full with all the recent changes, travel schedules, shortened scrim blocks, and so on. In any case, hero pools will make things a lot more entertaining from a spectator's standpoint, and they'll infuse the scene with a bit of uncertainty.
Fortunately, hero pools will only be in effect during the regular portion of the season. Once the playoffs come around, things will revert back to the way they were in the past. Finally, it's important to highlight that this is basically just an experiment from Blizzard, and if it doesn't pan out as well as they hope they'll probably remove it altogether.
2020 Overwatch League Teams
This is where absolute chaos begins. It's been quite a while since we last saw any of the twenty permanent partners in action. That, in itself, makes things very problematic when it comes to predictions. As if that wasn't enough, almost every single team underwent immense change during the off-season. Maybe that's even an understatement.
Saying who's better than whom at this point in time is downright impossible. This is a great thing if you're looking to capitalize and bet on the underdogs, but have in mind that there's very little rhyme or reason behind it all.
Everyone's acclimating a whole new meta, to a different training regime, to playing from different venues in front of different crowds, and so on. Just one of these elements is enough to create utter chaos, and when you combine them there's no telling what'll transpire over the coming months.
We do, however, know who's favored and why.
San Francisco Shock — The 2019 champions are entering the season as the clear-cut favorites. Their flexibility, mechanical prowess, and staggering amount of synergy are second-to-none. There's no reason why they shouldn't be able to dominate beyond measure yet again, especially considering the fact that they only made a single change to their roster.

New York Excelsior — Whether or not NYXL has what it takes to finish this high is less important. What is important, however, is the fact that they have a metric ton of talent and have always been able to compete at the highest of levels (at least up until the playoffs). This year should be no different. They're changed in nuanced (but important) ways and the addition of hero pools should in no way hinder their odds of finding success as they're insanely flexible and dangerous on a wide variety of heroes.

Atlanta Reign — With yet another spectacular DPS signing (Kim "Edison" Tae-hoon), many are expecting Atlanta to dominate beyond measure this time around. There's a good reason for all the hype: they have a capable, deep roster that can capitalize off of hero pools much like New York. They're also aggressive, in sync and are playing without fear, regardless of the opponent. The fact that they'll no longer have to adhere to the GOATS meta should also unlock them quite a fair bit, now that their immense DPS talent will be able to shine and make a statement.

Seoul Dynasty — There's a lot to like with this Seoul line-up, although how high they'll eventually soar still remains to be seen. The fact that they brought over Profit, Gesture, and Bdosin is more than enough reason to get excited. They're a veteran squad and should not be underestimated. 2020 could very well be the year when they break through.

Philadelphia Fusion — To say that the Fusion had an underwhelming 2019 would be an understatement. In a way, it's hard to blame them. GOATS took everyone by surprise and Philadelphia simply couldn't adapt in time. Fortunately, with 2-2-2 role lock in place, Philadelphia is bound to once again dominate in the Overwatch League.

Shanghai Dragons — The 2019 Stage 3 champions made a couple of fascinating pick-ups during the off-season. As things stand, this Dragons line-up has shown immense talent and potential. The former Seoul Dynasty DPS behemoth Fleta will now compete under the Shanghai banner, and with a more standard DPS meta in place, you can expect him to flourish and dominate just like he did in the inaugural season of the Overwatch League.

Vancouver Titans — The Titans didn't exactly have a stellar off-season, especially not when we compare them to many of their opponents. Still, they were able to retain a good chunk of their dominant core, which means they'll still be a threat. A big one, for sure. Still, the loss of their two tanks is bound to be a big one, and while Fissure and Ryujehong are definitely great pick-ups, it doesn't feel like Vancouver will be able to reach their former glory. They'll be insanely competitive and they could, by all means, slot quite a bit higher in the standings, but they'll have to fight harder than ever.
Everyone else, however, is more or less impossible to rank with confidence. We know that teams like Washington Justice, the Los Angeles Gladiators, Hangzhou Spark, and Paris Eternal (just to name a few) have what it takes to compete at the highest of levels, but until we see them in action, we have to stay reserved.
There's a lot to like overall and top-tier play will not be absent, that's for sure. Finally, expect quite a few upsets early on in the season as teams are still acclimating to a different kind of status quo.
Closing Remarks
The upcoming season of the Overwatch League is bound to entertain. It might be a bit chaotic (or a lot, depending on how things develop), but we should witness some insanely competitive top-tier Overwatch now that a 2-2-2 role lock is in place. As always, if you're looking to bet on the Overwatch League, make sure to watch as many games as you can in order to have the best possible grasp of how each team is performing and how the meta is developing. These things change and fluctuate on a weekly basis, so keeping track of who's doing well and who isn't will give you the best possible chance of finding success in your betting endeavors.
Tournament Format
Regular Season:
The 20 participating teams are split into two regional conferences (Pacific and Atlantic) with two divisions in each conference (East, West, South and North). They will play a total of 28 matches across the season. Two matches against each in-conference opponent and one match against out-of-conference teams.
Each team will host a minimum of two home weekend events during the season with an additional 12 events, three per division, collectively hosted by the home teams in their territories.
For the 2020 season teams will play regular season matches in a First-to-Three format with each match opening with control, moving on to hybrid, assault and escort in a rotating order. If a series reaches the fifth map only control maps will be played until a team reaches three map wins.
Wins and losses count towards teams' seeding in the postseason playoffs.