Last week we saw Pinnacle launch their new eSports betting hub which is promising to deliver plenty of value to those that are focusing on betting on eSports.
Here are some of the features they are boasting:
Personalised settings to select your game preferences
All the latest odds for upcoming events
A comprehensive eSports schedule
Betting articles for all learning levels
In other words, plenty of solid features to enhance your betting experience at Pinnacle right now. But how does it look in practice?
Our initial impressions of the Betting Hub
We have taken a closer look at the new betting hub at Pinnacle and must say we really like what we are seeing so far. The first thing that greets you is a list over the different eSports you can bet on, and the different sections available for them. After that comes the latest odds section, which features betting odds in three different odds formats. Next is a list of upcoming tournaments schedule and finally a betting blog, focused on eSports betting.
The design is quite nice, and works well with the new look that Pinnacle has implemented recently. It is also great to be able to filter out odds by games, instead of individual tournaments. Sometimes I want to look at all the odds offered for a specific game for example, not having to go into all the individual tournaments.
One thing that is a bit odd is that when you click onto a specific game, they still show the tournament schedule for all the games. So if you go to the CS:GO page, you still get Warcraft 3, League of Legends, etc. tournaments showing up. You need to click one more button to get to those specific ones. A little annoying, but they might change this.
Another thing is that it seems that they only show up odds on straight wagers, not alternative lines, totals, handicap, etc. That is actually an issue as Pinnacle often serves handicaps for matches, and no straight bets. That is the case for Dota 2 as of writing this.
I really like the fact that they show the implied probabilites from the odds that is offered at Pinnacle. This makes it easier for us to gauge whether we might have a good bet or not. You can easily switch this if you prefer it to be shown with regular odds.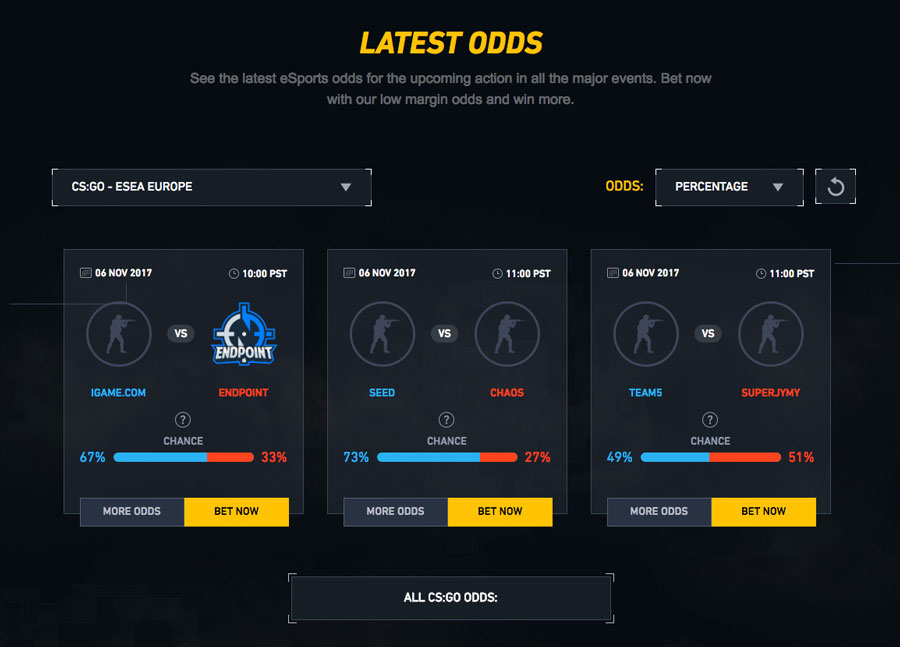 The blog section is also a nice touch. It is mostly basic articles to introduce people new to betting on how to think about odds and value. There are some more advanced ones on topics like the Kelly criterion, but they are fewer and farther between, naturally.
Visit Pinnacle now