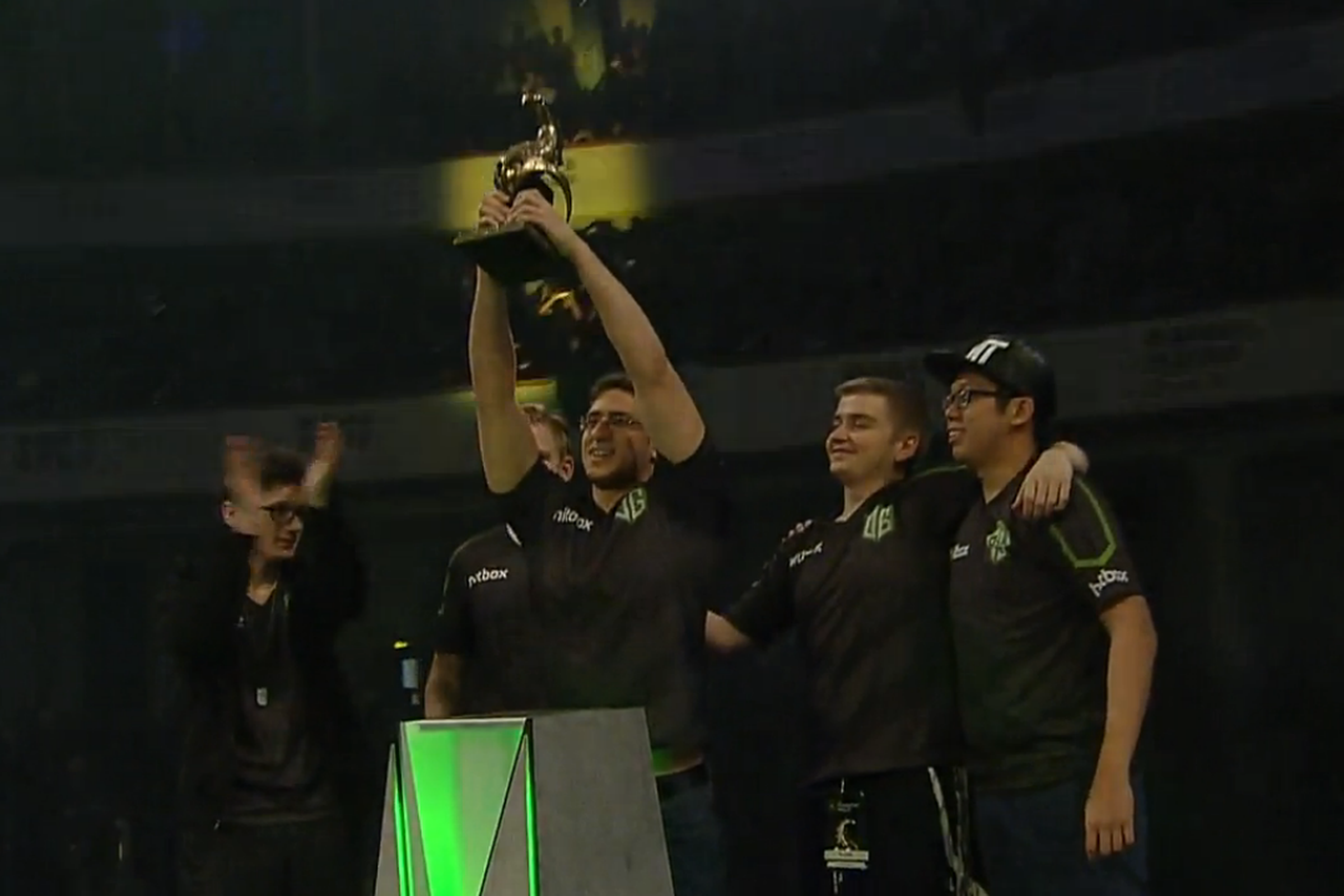 Following the major success of the 2015 International Dota 2 Championship in Seattle, which featured an astounding prize pool of $10 million, Dota 2 competitive play was back in action at the first ever Major in Frankfurt, Germany. Valve's goal is to have a major competitive tournament roughly every four months, and so far all indications point to a growing success. The frequency in major tournaments allows for more viewership watching competitive games, more prize pool money for competitive teams, and a ripple effect for daily fantasy and eSports gambling companies.
The Frankfurt Major 2015, sponsored by Valve and hosted by Electronic Sports League, concluded at the end of November. The inaugural Major featured a prize pool of $2 million, with the next Major scheduled to run from March 2nd through the 6th in Shanghai. We're here to recap all of the action from Frankfurt and get you prepared for the next Major in March.
Group Stage Recap
Group stage went relatively as predicted by the betting lines, with a few closer than expected games. One of those games was Alliance vs Mineski. Alliance mistakenly allowed Mineski to pick up Huskar (11-0 all time with that hero), which resulted in an extremely close matchup. Ultimately Alliance's team fighting coordination allowed them to steal the game in the end. Evil Geniuses, defending champions from the 2015 International and one of the favorites, were pushed to a deciding game 3 against underdog Fnatic.
Overall Mineski displayed some amazing potential that not many were expecting. Shaky performances by Alliance and EHOME left a lot to be desired for, with Vega and VP stepping up their game in the group stage. EG led the way with an impressive gold per minute (GPM) of 2113, followed closely by a surprising CDED (2066) and Mineski (2054).
Playoffs Recap
The playoffs started with a heavily anticipated Bo3 rematch, featuring EG vs. Vega Squadron. Vega had previously defeated EG at ESL One in New York and they were looking to pull off the upset again. Game one lasted over an hour, with Vega leading most of the way. An overextension late in the game provided the small window that EG was looking for, and EG was able to capitalize with a game 1 victory. Game 2 was another close matchup, with Vega taking it in the end. EG showed why they are one of the premier Dota 2 teams though, winning a lopsided game 3 to close out the series.
Mineski put up a valiant effort against Team Secret, but the difference in skill was clearly apparent when Mineski failed to capitalize on any of Secret's mistakes. Secret was able to use their competitive experience to force Mineski into situations and team fights that they really wanted no part of.
What looked like an easy 2-0 series sweep of EHOME.cn by LGD turned into a mild upset. After winning game 1, LGD had all but wrapped up game 2 before EHOME's rOtK decided otherwise. He singlehandedly turned the game around with amazing play after amazing play on Earthshaker. His coordination in team fights was truly exceptional as well. Even though the series was tied 1-1, LGD looked morally defeated heading into game 3. EHOME was able to take the game and advance.
One of the best matchups of the tournament was Team Secret vs. Vici Gaming. Secret suffered a devastating loss in game 1 after an admirable comeback attempt that almost saw EternalEnvy steal it away. Secret pulled out all the stops in game 2 and 3, picking unconventional lineups that were either make or break for them. In the end, Secret was able to take the next 2 game.
The Quarterfinals
Victus Gaming vs. EG
With OG, Team Secret, and EG securing spots in the semifinals, two Chinese teams, EHOME and Vici Gaming, were left to battle it out for the final spot. Vici Gaming came into the matchup as minor favorites with marginally more experience and a slight edge in skill.
Game one was a very close matchup, with EHOME essentially using the very meta that VG had perfected, often referred to as the Deathball meta, against them. While VG picked the proper heroes to counter it, they were just a step behind in rotations. The one shining spot for VG was Burning's Gyrocopter, but that wasn't enough to prevent the inevitable. EHOME was able to take game 1 in under 35 minutes.
Game 2's pick and ban phase was very similar to game 1. EHOME drafted a team that had excellent early game potential without sacrificing too much late game team coordination. Meanwhile VG picked up some unconventional heroes, such as Timbersaw and Pugna (the first time he was played the entire tournament). VG started out strong and raced to a 5,000 gold lead in the first 20 minutes, but EHOME's pressure of pushing towers together as a team became too much for VG. VG attempted to hold off the game as much as they could, but in the end EHOME pulled off the upset.
Team Secret vs. Evil Geniuses
Game 1's pick and ban phase resulted in standard meta picks. Secret picked up the lethal duo of Magnus and Ember Spirit while EG drafted a potent early game composition. The game started out as EG had envisioned, jumping out to an early lead. Unfortunately for EG, the mid game belonged to Secret's EternalEnvy. Crucial team fights occurred around Secret's base, and with each win Secret was able to battle their way back, eventually winning the game.
Game 2 started out similar to game 1, with Secret's Ember Spirit looking to carry the game. EG's SumaiL had other ideas, however. His Storm Spirit play was exceptional, and his farm was something to admire. EG was able to take game 2 and push the series to a deciding game 3.
Games 3 pick and bans started out well for Secret, with team captain Puppey forcing EG's PPD to either ban Broodmother or Huskar. The Huskar pick proved to be huge for Secret, as they were able to force EG into multiple mistakes to claim their spot in the finals.
OG vs. EHOME
OG and EHOME are two similarly built teams with a mix of youthful talent and veterans. Both teams' playstyles are similar as well, thriving on aggressive early games. If there was an advantage in this series, it was a slight nod to OG having essentially home field advantage.
In game 1, OG had a great draft, finding comfortable picks at each selection. Their early game was superb as well, with successful ganks all over the map. Things began to change though when KaKa's Bonty Hunter hit level 6. OG's lead began to dissipate, and soon EHOME took a gold lead. After some great trades by both sides, EHOME just had too big of a gold lead for OG to comeback.
With EHOME up 1 game in this best of 3, OG picked up super effective Tiny the Stone Giant. The picked turned out to be game changing once again, as EHOME had no answer for it in team fights.
Game 3 saw EHOME going with a more passive lineup in the draft phase, counter to their preferred playstyle. It seemed that the strategy they built before the game was heavily focused on split pushing and avoiding team fights. Unfortunately for EHOME, a multitude of mistakes and poor choices led to a deciding victory for OG.
EG vs. OG
With the winner guaranteed a spot in the grand finals, the newly built EG roster looked to make a claim as still the best team in the world. Meanwhile, OG looked to continue their success, bolstered by the home crowd.
In game 1, EG built a heavily dominant early game team comp. OG attempted to hold out and push the game to the later stages, but EG proved to be too dominant in the early game, securing a game 1 victory.
Game 2 saw SumaiL pick crowd favorite Tinker, but it didn't go as SumaiL had hoped for. OG was content to farm and gain a gold and XP lead, only engaging EG when they were confident they could win the team fights. OG would end up winning decisively, tying the series 1-1.
Game 3 was a must watch, filled with excitement and tension throughout. OG started out playing extremely passively, and it seemed it may cost them the game until a few unlucky mistakes by EG put them right back in the game. Coming down the stretch, it was a complete nail biter. To the delight of the crowd and all European fans, OG was able to pull out the victory in the end, sending EG home.
Grand Finals: OG vs. Team Secret
Well this was unexpected. For the first time ever, the finals of a major tournament would feature not one, but two European teams. These teams are well accustomed to each other, with OG featuring two former Team Secret members.
Game 1 started with chaos, with 5 kills going down before the match timer even started (3-2 in OG's favor). While both teams played at a level of being featured in a grand finals game, OG's MoonMeander and Cr1t were having one of their best games of the tournament. OG made play after play to take game 1.
Game 2 was just as good as game 1, with both teams coming out swinging. OG showed incredible early game dominance and it looked like they would end game 2 in the same way they ended game 1. Team Secret would not go down as easily this time though. Behind EternalEnvy's Slark play, Secret erased a 20,000 gold deficit. In the end though, OG proved why there deserving of being here, taking a 2-0 series lead into game 3.
Team Secret entered game 3 with their backs against the wall, and they drafted a team capable of securing a gold lead and winning with it. OG stuck with their playstyle, drafting an early game dominant team. The game started out in OG's favor, with multiple early ganks and great rotations. However, OG made a few overaggressive plays, and Secret quickly capitalized on the mistakes. Little by little, Secret built up a gold lead that proved to be too much for OG to overcome. The series was now 2-1 in OG's favor still.
Game 4 saw OG win the pick and ban phase, with N0tail being gifted Brewmaster. OG was able to capitalize on early Secret mistakes, taking a lane of barracks just 18 minutes into the game. From there, it was all OG in game 4, securing the first Major championsip in Dota 2 history.